Welcome to Natural Kitchens!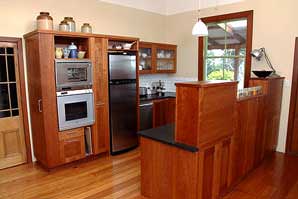 Natural Kitchens has been operating since 1992. We specialise in making high quality kitchens from solid timber. This means that they look good, feel good, last longer, and are made using sustainable materials and environmentally friendly finishes.
As we are also furniture makers, we see our timber-kitchens as kitchen furniture. Everything we make is timeless, designed and crafted to appeal for years to come.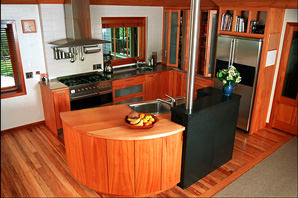 A well-made piece of furniture improves with time, the surface patina becomes richer, and the slight dents and marks which come with use give it character. Timber is a living material which ages naturally unlike plastic products which don't age well and break down as they get older.
Getting Started
So, you like the look of our kitchens. What's the next step?
Because every wooden kitchen we build is unique and custom built, the first step to creating your kitchen is contacting us by email or phone to start a discussion about what your needs are.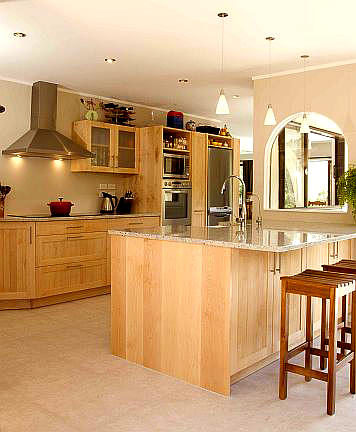 Then we will work closely with you to design your timber kitchen. This is our preferred way of working because this way we are able to incorporate all our knowledge of what can be done with wood with your particular requirements. We always have some special and unusual timbers in stock and this gives us unique design opportunities. Please visit us to choose door styles, bench tops, materials and to discuss details and your specific requirements.
Once the design is finalised, you will receive a full set of drawings and a detailed quote that clearly informs you about price differences between various materials - and hardware options.
If you already have plans drawn up, we can discuss these with you and quote from them. If your kitchen needs a partial re-design we will look into that for you also.
A carefully designed and constructed natural kitchen will involve you and our skilled craft-workers in bringing out the beauty of your home.