Kitchen Components
Cabinets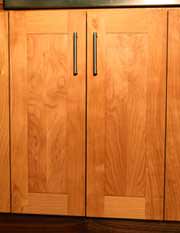 We make the insides of our cabinets from clear Pine or Lawson Cypress timber. This means that you now have a piece of furniture rather than a plastic box. The cabinet-sides are 20 mm thick instead of 16 mm. This is overall more structurally solid.
The oil finishes we use make the cabinets easily cleanable with a damp cloth. Maintenance is uncomplicated. Another aspect of using solid timber: it is environmentally friendly in the production process and afterwards. Very little landfill rubbish is being created.
Doors
The overall look of a kitchen is affected mainly by the doors. Choosing the right timber and style is very important. We have a wide range to choose from. They can have classic decorative details, very plain frames or can be flat for a more modern look. Everything is custom made to suit your preferences.
An advantage we have over factory produced doors is that our handcraft approach allows us to match the timbers, thus achieving an overall harmony. We make our door panels by "book-matching" the timber. This means a thick piece of wood is band sawn through and opened up like a book. The 2 pieces are glued together to form a gorgeous panel. We don't use veneer on the panels as it is easily damaged and looks 'flat'. We join the door with timber joins that make them very strong.
Our hinges are high quality 3 D- adjustable 'Blum' ones with soft-close mechanism and very sturdy base-plates that will prevent hinges coming loose over time.
Drawers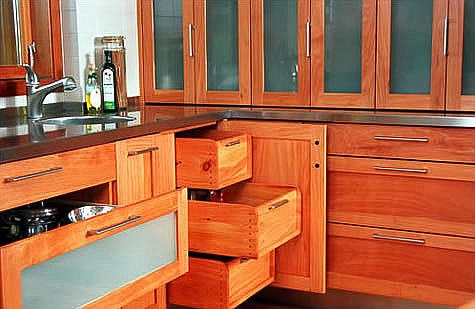 The sides of the drawers are usually made from a light-coloured timber, but other woods are available on request. The drawer fronts are made to match the doors. Our high quality ball-bearing runners allow for smooth running and soft closing of the drawers. Wooden cutlery inserts are available besides the standard ones.
Alternatively we use 'Blum' 'Legra'-boxes and 'Antaro'-boxes. These are steel-sided drawer interiors that are available with different finishes. All of them are soft-closing and have excellent running qualities. All our draw runners come with a life-time warranty. A whole system of stainless- and timber cutlery inserts and dividers is available for them. These help to organize the contents and add to the visual appeal.
Bench Tops
Quite often we combine timber benchtops with stainless steel - or granite ones in one kitchen. This way we get the best water-protection in the sink-area and the best touch feel in places like a breakfast bar or butchers-island. Where possible we increase the bench-depth from the standard 600 mm to 700 mm for much increased usable space and to be able to incorporate extra-deep drawers.
These are the main materials available:
Wooden Benchtops: We use mainly sustainably grown hardwoods. Besides locally grown Eucalypts we use classic timbers like Oak, Beech, Maple or Chestnut. Being wood lovers, we are always on the lookout for special timbers from local growers. Lately we have been using Sycamore, Blackwood and Matai salvaged from South Island rivers. The timbers used are hard and dense. Treated with our industrial oil finishes these timbers give you extremely attractive and durable surfaces.
The beauty of the timber-grain is high-lighted by the natural oils we use and no toxins are released into the environment. The oil-finish is easy to clean and maintain and will not deteriorate irrepairably after some time, like polyurethane finishes.
Custom made stainless steel benches: These are available in a range of surface finishes like 'Satin' and 'Linen'. In combination with boxed upstands and modern large size sink bowls they are very practical and easy to clean. As a substrate we use only sustainable plywood that will last.
'Granite': A huge range of different coloured and patterned granite is available now in NZ for a very reasonable cost. When well sealed this is an extremely durable material that compliments our timber kitchens perfectly. The sinks can be under-mounted. Grooves next to the sink allow the water to drain easily.
Composite stone: In recent years a large range has become available giving you plenty of design options. Particularly worth mentioning are the 'Marble' look-alike stones. They give you the visual appeal of real 'marble' without the worry of staining.
Sinks
We mostly use New Zealand 'Acero' ('Mercer') and European manufactured ('Blanco' & 'Franke') stainless steel sinks, porcelain 'Butler' sinks, bowls made of Copper or sinks made of composite material. These sinks can either be set into our timber tops, seamlessly welded into stainless tops, or sub mounted into stone tops. Particularly popular and practical are bowls with tight 15 mm internal corners and extra depth, allowing the easy cleaning of baking trays etc.. To make the space under the sink more available for storage, we provide 'space-saving traps' that take the waste-trap to the back of the cabinet.
Waste disposals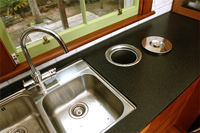 We use a variety of 2-bin or multi-bin pull-out systems ('Blum'; 'Tanova'; 'Haefele') that pull out like a drawer. The runners are covered to protect them against moisture. These bin systems will last and can be easily cleaned.
In addition to the above waste-separation systems we also offer different in-bench compost solutions for the modern household. Ask us for a specific solution for your kitchen.
Handles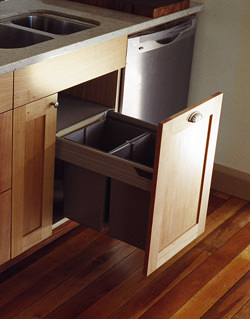 We have our own unique range of handles to match the doors and timbers we are using. You can choose from a huge selection of metal, wooden and ceramic handles. We also offer handles made specifically for your project, handle-less solutions and 'touch to open' systems.